Upcoming Events
Montessori
Webinar Season 17-18

Select Past Recorded Webinars Available Here:
Free On-Demand Videos
---

Charity Event:
Paint for a Cause 
Paint a Bubble in the Parking Garage of the LOT La Jolla!
Following the opening ceremonies, the pubic is invited to a Pediatric Mental Health presentation featuring Dr. Silvia Dubovoy, teacher, trainer, lecturer, consultant and examiner for the Association Montessori International (AMI) Worldwide, Dr. Jay Giedd, who chairs the Department of Child Psychiatry at Rady Children's Hospital, and Pilar Cardenas MFT, Marriage and Family Therapy provider.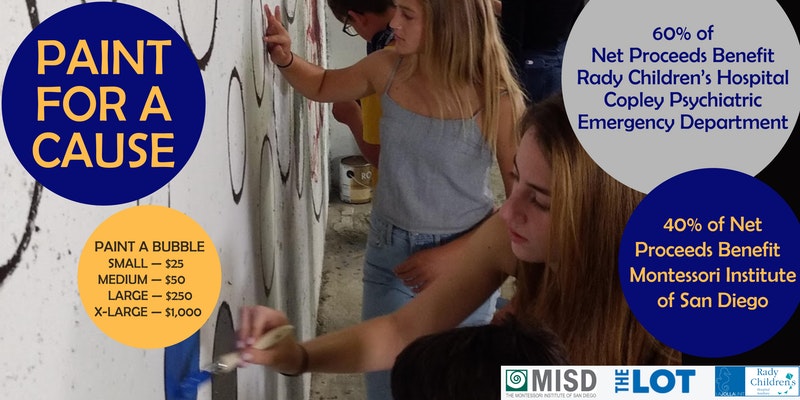 Date: Saturday, November 18th
Time: 8:30am
Where: THE LOT La Jolla
Underground Parking Lot
7611 Fay Avenue
La Jolla, CA 92037
View Map
Select your bubble size and your time slot and purchase your ticket up to paint! Come make your mark on the community, while supporting Rady Children's Hospital and The Montessori Institute of San Diego. Be a part of our community mural project that is raising awareness and funds for the greater good of our local children all across San Diego county. Bubbles can be painted by children, adults, school groups, Girl Scout/Boy Scout Troops, community groups. Or, you can purchase a bubble to be painted by a Rady Children's Hospital patient or representative or a Montessori Institute of San Diego student or instructor.
---

Free Webinar:
Supporting Independence:
Birth to Three Years

Wednesday, December 13th at 5:00 p.m. Pacific Time  

Date: Wednesday, December 13th
Time: 5:00-6:00 PDT (Pacific Time)
Time Zone Converter
Topic Details Coming Soon
---
January 21, 2018
MISD is pleased to announce our
first job fair!